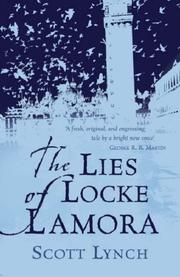 Locke Lamora is the Thorn of Camorr, leader of the Gentlemen Bastards, a master thief who robs the nobility of that city-state with grand breath-taking plans. He and his gang hide not only from the police but from the leader of the underworld who knows hims as just another garrista of a small, unimportant gang. But a private war that erupts suddenly in the city's underworld has Locke and his band fighting for their lives.
This book has a wonderful setting, crossing an Italian renaissance city with aspects of The Godfather and the grimier scenes from Dickens. Locke and his Gentlemen Bastards are great characters, carrying out their schemes with wonderful flair, and when the excrement starts hitting the rotating ceiling-mounted air-circulation device, you really care about them. Especially when the 'bondsmage', the Falconer starts to get his hands on them.
Lynch dropped several hints about the background to the city-state of Camorr and the long-vanished race that created the towering edifices that mankind has inherited. While curious to find out more about this, I recognise that sometimes backstory is just treated as such and left alone.
A great story, well-told with a wonderfully vivid setting. And although it's the first in a sequence, the story is wrapped up neatly so you aren't left hanging.