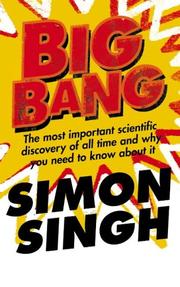 This book is Singh's attempt to explain the Big Bang theory to the layman, along with a general overview of how science works. In that regard, he succeeds in both, but moreso in the second goal than the first. Although Singh's writing is clear and lucid, I think having some background in science and being familiar with concepts in astronomy and cosmology definitely help. Although he keeps the maths to a minimum, there are a few equations in the book (although you don't have to solve them!), so having a little maths helps as well. This is especially true in the early chapters where he describes how the ancient Greeks worked out the circumference of the Earth with nothing more than observation and basic trigonometry (that's one for everybody who said learning about sines and cosines was pointless because it had no bearing on the real world!).
From that, Singh then winds the clock forward to the middle ages as he continues the story of cosmology and describes how Copernicus laid the seeds for a heliocentric view of the universe, expanding our view of the universe at every step as astronomy and cosmology show us more and more of the universe we live in, before culminating in the final pieces of the puzzle that cement the Big Bang theory of the origin of the universe. Singh is careful to show both the cumulative ("standing on the shoulders of giants") and paradigm-shifting paths that science can take to move forward and how they can work in concert.
As well as the science, Singh also weaves the personalities of the scientists into his story, telling anecdotes and providing biographies, but he never lets this get in the way of the science itself, something which is all too easy to do.
Lucid, easy to read and very informational, I really enjoyed this book, telling the story of one of the most important theories in science and through that, explaining the methods of science itself. Highly recommended.