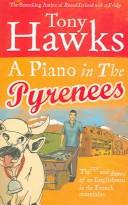 The man who makes silly bets is back. But this book isn't about hitchhiking around Ireland with a fridge, playing the Moldovans at tennis or getting a hit song in Europe, it's about Hawks' problems when he bought a house in the French Pyrenees, and the piano that he took there.
My worst fears were averted when the titular piano got safely to the house in about chapter two or three, leaving the rest of the book to be about him settling into life in a tiny French village. This book sees a middle-aged, more contemplative Hawks, reflecting on his life and his friends, with the house being the focus that draws this out.
The first half is quite amusing but it's the second that had the more laugh out loud moments. Very different, but possibly his best book since Round Ireland with a Fridge. In saying that, the person who gave me the book said that it doesn't necessarily have re-readability, so I'll reserve final judgement and see if it makes me want to read it again.