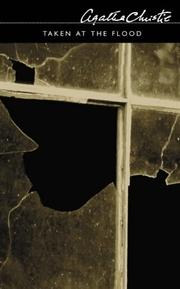 A young bride is suddenly left fabulous wealth when her new husband dies in an air-raid, causing his relatives to lose out on money that had been promised to them; a stranger is murdered and a whole sequence of other events bring Hercule Poirot to investigate, but can he untangle the knots?
I felt that the writing in this book wasn't particularly sophisticated, and it felt clunky at times. Poirot himself wasn't introduced until the second half of the book (apart from a cameo in the prologue), the first half being used to set the stage and perhaps the book suffered a bit because of that.
But through it all, Christie is still good at what she does, and I was kept guessing as to the identity of the murderer right to end. She's good at misdirection and setting pins up only to knock them down (either that or I'm rubbish at whodunnits, or both). So not great writing but a good whodunnit.