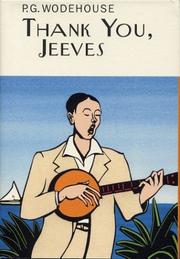 This is a novel (Thank You, Jeeves) with some short stories tagged on the end. It has, gasp, Jeeves handing in his notice, as he can't stand Bertie's banjo playing and the ridiculous, yet really funny, things that follow from that and Bertie's stay in the country with an ex-fiancée, and the requisite supporting characters.
I also enjoyed the short stories, and actually recognised one of them from a Radio 4 adaptation that I had forgotten about. Now that I've had a pretty good introduction to Wodehouse I'm definitely going to be on the lookout for more, not to mention the Granada TV series of Jeeves and Wooster which I never saw first time round but have been told many good things about.
Its upper-class antics may not be in line with modern PC thinking, but if you've not read any, give Wodehouse a go, he's really entertaining.