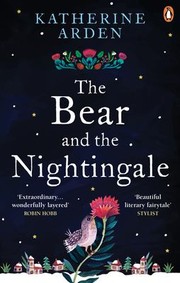 This Russian-inspired story reminded me quite a lot of some of Naomi Novik's work, particularly her Eastern European-inspired novels, Uprooted and Spinning Silver. It had that same sort of dark fairytale feel to them, with the shadow of the forest threatening danger and winter as a major player.
Vasilisa is the last-born child of her mother, who was the child of a witch, and the power runs through her veins. She can see the spirits that inhabit her home and lands, and she can see things best left unseen. But amongst these, she has to live the life of a young noblewoman, and avoid the eye of the Church, and the new priest, who is determined to Save his new flock.
Vasilisa (or Vasya as she's known) is a very likeable character. One who wants to just be allowed to live, without being forced to be bride, either of a man nor of Christ, which seem like her only options. But she is resilient and strong and knows she'll find a way. You're with her and willing her to find it all the way through. The other characters are drawn well as well, from Vasya's frightened stepmother, to her solid and dependable ageing servant, Dunya, who raises Vasya and tells her and her siblings the old stories to keep them alive.
Arden studied Russian literature and spent a year living in Moscow. And all that really shows in the little details in the book. It's a book that feels perfectly standalone; I can see how there's space for sequels, but I enjoyed it a lot on its own and I don't know if I want to read any more in the world.