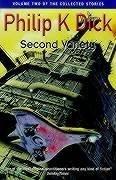 This volume contains a hefty collection of Dick's early work from the 1950s. Despite being from early in his career, there's only the odd clunker, with most of them being well-polished, although the latter ones moreso, as he continues to develop as a writer. Themes of what it means to be human and individuality vs systems recur aplenty (themes that he would return to throughout his career).
Standouts for me included Jon's World, which is one of the few stories in which Dick returns to the world of a previous story (Second Variety, also in this collection) and which sees the invention of a time machine; Some Kinds of Life, a satire about unending war for resources and the inevitable conclusion; A Present for Pat in which a man brings back a very unusual present from a business trip for his wife; and Planet for Transients about the changing nature of humanity after a global nuclear war.
Most of the stories are quite short and there's a lot to enjoy from dipping in and out of them. A good read both for existing fans of Dick and for people who want a taste of his work.