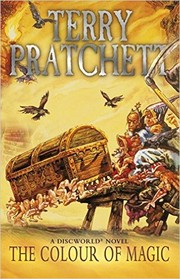 Despite Julie Andrews' opinion, sometimes the very beginning isn't the best place to start, with Exhibit A being the Discworld. Despite it being the first novel about a flat world carried through space on the back of four giant elephants standing on the shell of a turtle, I wouldn't exactly call The Colour of Magic the first Discworld novel. So much of the tropes, language and humour that I associate with the Discworld are missing from this book that it would be better to call it a prototype, at most.
That's not to say that it's a bad book, but at this point in his career, Terry Pratchett is still a journeyman and the book feels like that. It's been many years since I had last read it, and I must admit that I enjoyed it more this time round than previously. That's because The Colour of Magic is very much a pastiche of classic fantasy, and I hadn't actually read much classic fantasy at that point. I hadn't read Fritz leiber's Lankhmar stories, Robert E. Howard's Conan stories, H. P. Lovecraft's horror or even Anne McCaffrey's Pern books, all of which are lovingly represented and gently pastiched here. Now that I have read all those authors and more I can appreciate what Pratchett was doing much more than I could when I read this as a callow youth.
In some ways, it's impressive how much of the Disc is already formed in this early novel, with Ankh-Morpork (complete with [a, if not the] Patrician), the countries of the Circle Sea, Rincewind and the counterweight continent all present, ready to be fleshed out more fully in later books. But the book does very much lack the laugh out loud humour that characterised Pratchett's golden age for me, and the writing is yet to gain the confidence and sparkle that would make Pratchett one of the most admired writers in Britain and beyond.
So an interesting book for its place as the book that started it all, but I still wouldn't recommend it as a starting point for Discworld newbies.