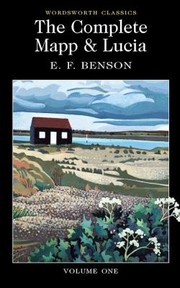 A friend recommended the Mapp and Lucia books to me some time ago, and I got given this omnibus for my birthday this year. Having read the first two (of three) volumes in this collection, I'm firmly of the opinion that I'm not going to read the third, nor will I be looking for volume 2 of this series. I didn't hugely enjoy either book, although I preferred Queen Lucia to Miss Mapp, the eponymous protagonist of which I actively disliked. Individual reviews below.
Queen Lucia
Mrs Emmeline Lucas, universally known in the village of Riseholme, where she lives, as Lucia, is the undisputed reigning monarch of the village, in culture, music and art. Riseholme is awash with well-off, bored inhabitants, all heavily invested in the tiny dramas that play out in the village, from the saga of the guru to the mystery of who's taken the empty house. Lucia is a ridiculous, pompous creature, but entertaining in her own way.
The strange baby talk that she indulges in with her "grand vizier", the rather camp Georgie is odd (and a little creepy to my mind). Georgie is possibly the most sympathetic character in the book, although he's no less ridiculous than the rest of them. The inhabitants of Riseholme, while all scheming and gossiping, for the most part aren't actively malicious towards each other. Lucia has a need to be the centre of attention and sometimes does underhand things to achieve that, but she usually gets her just desserts.
Spoiler
While I was fully expecting the guru to be a scoundrel, I was disappointed that the only non-white character in the book also turned out to be a thief. This left a sour taste to an otherwise entertaining escapade.
Three stars.
Miss Mapp
Miss Elizabeth Mapp lives in the village of Tilling, where she aspires to fill a similar role to Lucia, but is more just a hate-filled, hypocritical shrew. She has shallow, rivalry-filled friendships with her neighbours and spends her evenings plotting and playing bridge.
The most enjoyable relationship in this book was that between the "frenemies" Major Flint and Captain Puffin, who spend their days playing golf together, and their evenings "writing memoires" and "researching Roman roads" respectively. Miss Mapp's intervention in that friendship especially made me quite angry.
I wasn't interested in the stories of these people at all (although the duel was quite entertaining to begin with). I found myself waiting for Mapp to get her comeuppance on a regular basis, which isn't the basis for me to enjoy a book at all.
Two stars.