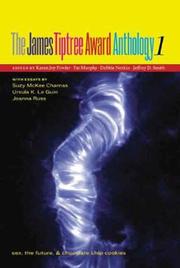 This anthology brings together short fiction that was nominated for, and some that won, the James Tiptree Award for "science fiction or fantasy that expands or explores our understanding of gender". As well as that, there are a number of essays both relating to the award itself and the wider genre. There were a number of stories here that I enjoyed a lot, and some less so.
Looking Through Lace, by Ruth Nestvold, was probably my favourite story in the collection. This is about a young xenolinguist trying to understand the complexities of an alien language while also having to overcome the prejudices of her superior. This one reminded me of some of Ursula K. Le Guin's anthropological stories and I liked the characterisation and deft worldbuilding.
I also enjoyed both the retellings of The Snow Queen (itself also included in the collection) preferring the modern Travels with the Snow Queen over the Japanese-set The Lady of the Ice Garden.
I was less keen on The Catgirl Manifesto: An Introduction by Richard Calder. This was written as an academic-style introduction to a fictional work that seemed to have a few layers of fiction to it. Perhaps I would get more out of it on a second reading, but as it stood I found it difficult to follow and somewhat incoherent.
So a good collection if you're interested in exploring gender or just want some challenging SF.