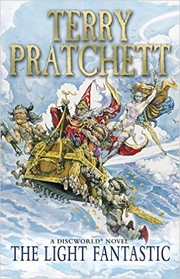 After rereading The Colour of Magic after a very long interval, I moved straight on to The Light Fantastic and what struck me very quickly was how marked the difference between the two books is. TCoM is an amusing lightweight fantasy pastiche; TLF is a Discworld novel. It's astonishing to me just how much the three short years between the two novels has done to hone Pratchett's art. This book made me laugh out loud several times, started the regulars towards their more familiar characterisations and introduced Pratchett's famous footnotes.
I had re-read The Colour of Magic out of curiosity and, to be honest, at times it did feel like a bit of a slog. I just picked up this one out of a sense of duty as the two books have always been very connected in my head, and I hate not finishing a book, but devoured the whole thing quickly. The writing, humour and style all felt much lighter, much more like the Pratchett I remember and love.
There'll always be sadness, however, in opening a Discworld book and seeing the first line of the bio: "Terry Pratchett was born in 1948 and is still not dead." :-(.