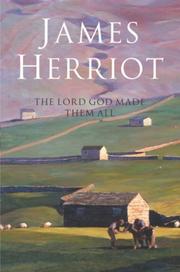 This book, like the others in the series, is just very pleasant to read. The war is over, Jim is back in Darrowby and back into his old life. This volume sees the birth of his second child, Rosie, and, although he's mostly covering the post-war years here, we get a couple of jumps forward in time to the early '60s as he travels with first a boatload of sheep to Russia and then a plane-load of cows to Istanbul. Both of these provide entertainment and excitement, albeit in different ways.
As always, Herriot captures the essences of the characters that he works with in a charming way, especially the Danish sailors he travels to Russia with. Speaking of eccentric characters, once again there's no appearance from Grenville, and both Tristan and Siegfried don't have much in the way of screen presence, and both show up in workman like roles, rather than for the eccentric stories we've come to expect. In fact, both have got married and had children off-screen, as it were, which is a bit disappointing, given that Tristan used to pretty much chase anything in a skirt, and Siegfried never had to chase at all, but was beating the ladies off with a stick, but never seemed that interested in actually capturing any of them. But in the end, it's Herriot's book, not that of the Farnon brothers, so he looks mostly at his own life and family.
It is the post-war era by this point, and antibiotics are starting to become available. This means that from my 21st century point of view, I twinge a bit in alarm at the casual way that Herriot prescribes penicillin and its successors. But of course, the dangers of that was hardly something that could have been aware about in the 1950s. The other thing that makes me cringe every time I read it is when he or one of his friends hops into a car after an evening at the pub. The don't drink and drive message that has been drummed into everyone of my generation from an early age was still decades in the future at this point.
But despite these relatively minor issues, these books are gentle, wonderfully descriptive of the Yorkshire countryside, and a pleasure to read.