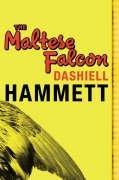 Sam Spade is the archetypal hard-boiled private detective. He and his partner employed by Brigid O'Shaughnessy to follow a man. And from there, it all goes downhill.
This was an interesting book to read. While it was interesting to finally read about the famous Sam Spade, I don't think it did an awful lot for me. The writing felt unsophisticated and the characters somewhat crude. Hammett's portrayal of O'Shaughnessy and her blatant use of her sexuality to try and win over Spade never quite sat right, while Spade's hard-talking, no-nonsense hero felt a bit clichéd as well, although in this case it's probably because Hammett invented that particular cliché.
Also, unlike a whodunnit, it's not like the clues are there for you to try and track down the murderer yourself, but you just have to follow the protagonist on his journey, but that's the nature of a noir thriller. Certainly worth reading but I felt more interested in it as an historical document than as a novel.