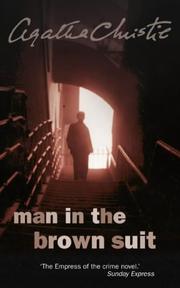 Anne Beddingfeld is a newly orphaned, but adventurous young Englishwoman, who witnesses a man falling to his death in the London underground. This leads to somewhat more adventure than Anne bargained for and a trail that leads to South Africa and maybe even true love.
I hadn't realised that this book didn't star one of Christie's famous detectives, but Anne was an awful lot of fun. The story is told in the first person as her memoir of the affair, with some chapters being "extracted" from the diary of an MP that Anne happens to encounter.
Anne's fellow travellers on the ship that takes her to Africa are a varied bunch, each well drawn and with their own characterisation, letting the reader put them into their own mental map of the plot. I especially liked Mrs Suzanne Blair, the society lady that Anne takes into her confidence; and Guy Pagett, the rather prim secretary of MP Sir Eustace Pedlar – he reminds me of that wonderful PG Wodehouse creation, The Efficient Baxter.
The identity of the mastermind behind the whole thing caught me entirely by surprise, the whole thing was deftly put together, with all the clues and red herrings that you'd expect from the Queen of Crime. While I was a bit disappointed not have Hercule Poirot solving the mystery, Anne is a delightful character and I couldn't stay mad at her for long.