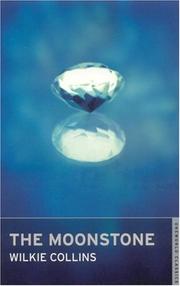 The Moonstone of the title is a magnificent, sacred Indian diamond, stolen by a soldier in the British Raj and later given to his niece as a birthday present, whereupon it immediately goes missing. Just under half the book tells the story leading up to the disappearance, and the rest tackles the consequences and efforts to recover it.
Stylistically, it's similar to Collins' other famous work, The Woman in White with a number of different first person narratives telling the story through time. My favourite narrator was the first, the inestimable Gabriel Betteredge, old servant of the family and devotee of Robinson Crusoe. He's got a charming narrative voice and his frequent ramblings and asides are great fun to read.
Gabriel's polar opposite is Miss Clack, a creation, in my opinion, to rival The Woman in White's Count Fosco, and yet also hilarious (in short doses). She's a mockery of the kind of holier-than-thou "Christian" who Collins probably did encounter more frequently than he would like liked. She starts of as a harmless old biddie but as her narrative goes on, I found her creepier and creepier, possibly because I found her complete lack of empathy and deep selfishness, disguised as piety, all too believable.
Lots of fun, very easy to read and (for readers of my edition, at least), not as intimidating as it looks: the paper's just very thick!