By L. Frank Baum
Rating: 0 stars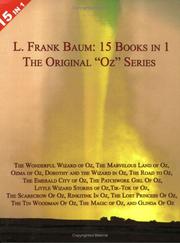 I've read some these, but not all. I do like the series though.
Book details
ISBN: 9780954840136
Publisher: Shoes and Ships and Sealing Wax
Year of publication: 1900

No Comments »
No comments yet.
Leave a comment
The original text and layout of this page are copyright © Rajnish Bhaskar, 1997 – 2021. All images are copyrighted to their respective owners. All copyrights and trademarks are acknowledged on the copyrights page. Read the privacy policy at LordOfTheMoon.com
All views on this website or elsewhere on the web under the 'LordOfTheMoon' name are purely personal and reflect my own views and nothing else. If you have any comments or anything else to say, email me at and tell me.
[Home] - [Blog] - [Peace] - [My Writings] - [Science Fiction] - [Computing] - [CV] - [About me] - [Links] - [Sitemap]