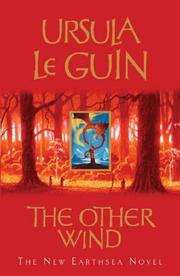 The final novel in the Earthsea sequence takes the series out on a high for me. I came to Earthsea fairly late, only reading the original trilogy a few years ago, followed fairly swiftly by Tehanu, which it's safe to say I didn't enjoy that much, at least, not for its story. I have no such reservations about The Other Wind. I think that this is the book that I wanted Tehanu to be, as it continues the story of the adopted daughter of Sparrowhawk and Tenar and brings it to a denouement, if not conclusion.
This felt like a good blend of traditional fantasy, in that it begins with a quest (albeit, the quest of the sorcerer Alder to find peace from dreams that are tormenting him) but you also gain the full benefit of Le Guin's years of honing her art and philosophy.
Sparrowhawk, whose story is told in the original Earthsea trilogy, is a minor character in this novel, appearing only in the opening section and at the very end but he is someone who has finally found peace and is able to offer the benefit of his wisdom, if not his magic. We see much more of Tenar, Tehanu and king Lebannen but these characters are much more active than they were in Tehanu, 'doing' rather than just 'being', the opposite of which was a complaint I made about the previous novel.
The story itself is about beginnings and endings. About lost history and the circle of life; about life and death and the righting of ancient wrongs. This could quickly get very hard going, but Le Guin maintains a deftness of touch throughout and injects humour into unexpected places which both kept me on my toes and made me smile and sometimes laugh out loud.
A marvellous way to end the Earthsea sequence.