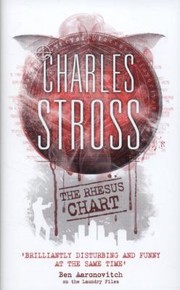 "Don't be silly, there's no such thing as vampires!" That is the recurring refrain of this book. Of course there are vampires, and Bob Howard has to deal with a nest that has emerged in a leading investment bank in the City, on top of struggling with his marriage, dealing with management cargo-cult of Google and a slightly psychotic ex-girlfriend.
Goodness me, this was certainly a bit of a challenging book. I enjoyed the light-touch humour and tongue-in-cheek Lovecraft of the early the Laundry novels, but they have certainly been growing grim of late. This one lulls you into a false sense of security and then whams you in the last few chapters, leaving you bruised, yet also desperate for the next one, given what happened at the climax of this one.
There's still lots to like here, with Pete, the vicar who Bob drafts in for some research in the The Apocalypse Codex, becoming more of a player, as well as Alex, the vampire banker who kicks off the whole affair but is probably one of the more sympathetic characters in the book.
But, I do have to wonder if it's time to give up on the Laundry. Horror has never been my favourite genre and these days, as CASE NIGHTMARE GREEN draws ever closer, Bob's memoirs are definitely more horrific than humorous.