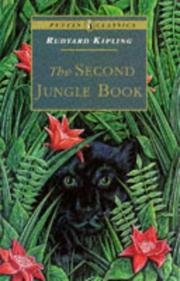 The Second Jungle Book contains several stories of the jungle and beyond, as well as finishing the story of the Man Cub, Mowgli over several hops. The end of the first Jungle Book saw Mowgli return to the jungle after a bad experience in a local village, and this describes some of his further adventures, now as master of the jungle. The final story here, The Spring Running which the book itself describes as "the last of the Mowgli stories" had me blubbing at the end. It describes the change that comes in spring and Mowgli's unrecognised urge to return to mankind.
There are other non-Mowgli stores as well, of course. The creation myth of the elephants, the story of an ancient crocodile lurking in a river by the banks of the village and the story a holy man are all marvellous additions to the Jungle Book canon. I was less entranced by the Eskimo story Quiquern and I'm not sure why. It just didn't work for me.
But apart from that, the stories are all excellent. Kipling once again betrays a love of India and its people, even if he does allow the image of the supreme White Man to surface occasionally.