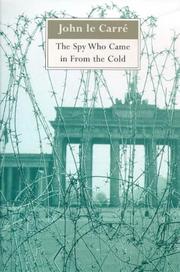 This was a rather interesting book, and one that I enjoyed quite a lot. le Carré creates a different sort of spy, very different to the glamour of Bond. His hero, Leamas, is burned out and tired of the whole spying game, wanting to "come in from the cold", as it were, but he has one last job to do before he can do that. Leamas is an intriguing character, tired, burned out and desperately wanting out of the whole game, but dutiful to the last and holding all that tiredness within himself. He's very much the antithesis to Fleming's Bond.
As much as anything else, this was a glimpse back into the world of the Cold War, something I only remember from my childhood and a time when the world was very clearly Us vs Them and even if you didn't necessarily approve of what your own side was doing, anything that countered Them was (grudgingly) accepted.
I've heard of George Smiley from other media and this book was also interesting in that it effectively introduced Smiley off-screen, always lurking in the background but only making one fleeting appearance on to the page. As intriguing as Leamas is, I'd like to know more about Smiley (and, I suspect, so did many other of le Carré's readers, since he goes off to star in several of his own novels).
While I'm not normally a fan of the spy/thriller genre, I definitely enjoyed this story and will be on the lookout for more of le Carré's work.