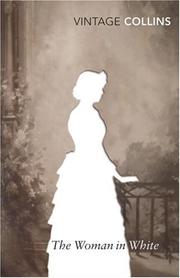 Hartright is a drawing master who gets engaged to tutor two young ladies in an out of the way part of the country. Before long he is wrapped up in the mystery of the titular woman in white and must find out the secret of Sir Percival Glyde, the financeé of one of his charges, before it's too late.
I loved this book. It's a fast-paced thriller (despite being over 600 pages long, it never feels like it dawdles) with some lovely characterisation. I've been told by someone in the know that Wilkie Collins was parodying some of the more overwrought gothic romances of his time. I didn't pick up on that, but even without having the additional layers of knowledge, there's a lot to enjoy about this book.
I don't think it's a spoiler to say that Glyde, and his friend Count Fosco, are the villains of the piece. But while Glyde is merely an upper class English thug that you can can't throw a stone in Victorian literature without hitting, Fosco is something else entirely. He's a marvellous creation who exudes charm and quirkiness, with a dedication to his pets, whilst having a very intelligent, ruthless core. He's also believably flawed, and his interactions with Marian Halcombe are both delightful and flesh-crawling. That's the mark of a good writer right there!
I think that the aforementioned Miss Halcombe is probably my second-favourite character, after Count Fosco. She's intelligent, witty and not the kind of woman to go around swooning at a moment's notice (not something you can say about her half-sister, Laura, who is to be married to Sir Percival).
So a rocking thriller with some great characters and a mystery that extends throughout the book. The structure, with multiple narrators also feels very modern and I have no hesitation in recommending this to anyone who has a modicum of an attention span.