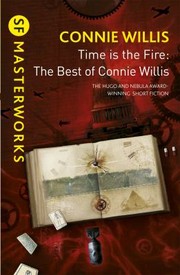 I've not read a huge amount of Connie Willis before, although I wasn't hugely fond of Lincoln's Dreams. However, she's an author I've heard good things about, and when I found out that she's won enough Hugo and Nebula awards to make a (pretty big) book out of, I was intrigued. And dear me, but this is a good book!
It starts slowly with A Letter From the Clearys, a story that definitely shows more than it tells. Perhaps it leaves a little too much unsaid for my tastes, but it's a wonderfully atmospheric story. From there on in, the pace picks up. At the Rialto is a hilarious pastiche of an academic conference/SF convention held in LA, where nobody listens, all the staff are just filling in while they're trying to be something slash something else.
That's something that I wasn't expecting, actually. Willis is a master of humour. Several of the stories here are very funny, with masterful comic timing and just the right amount of 'something'. But that's not to say that she can't be serious as well. She starts of so, and Fire Watch, The Winds of Marble Arch and Last of the Winnebagos are all very good, character pieces.
One of the ones that made the most impact of the collection is probably The Winds of Marble Arch, which tells of an academic in London for a conference with his wife, looking forward to catching up with old friends and adventures on the Underground. But something happens and things start to unravel as he becomes obsessed with tracking down where the strange and disturbing winds down in the Tube come from. Willis just blew me away with this one, as our protagonist realises that life is decay, people get old and things change, not always for the better. This was on track to be pretty bleak, but a final twist leaves us, like the protagonist, feeling uplifted and thinking that maybe there is a point to it all after all.
Oh, and another contender for favourite story in the collection is Even the Queen, which had me laughing out loud, and still left me feeling thoughtful at the end. As the introduction puts it, it's quintessential Campbell-ian SF, other than its unspeakable subject matter.
To round off the collection, there are a few speeches that she gave (or, in one case, didn't give) which give us a taste of the woman, as well as the author and each of them had me welling up at some point. The woman is good.
So jumping from the Blitz and St Paul's, through post-nuclear America, dealing with unruly families and the London Underground to a world without dogs, there is something here for anyone who likes thoughtful science fiction. There's a reason that Willis has won all those awards. I would recommend this without hesitation.