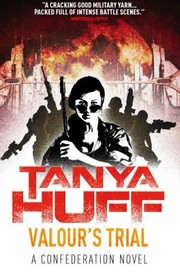 Gunnery Sergeant Torin Kerr is involved in a major battle and is thought killed in action. However, unknown to everyone, she ends up in a prisoner-of-war camp. Which is interesting, since, as far as everyone knows, the enemy don't take prisoners. First she has to sort out problems in what is nominally her own side before she can pull a team together and get on with the serious business of escaping. What she finds may change the course of the war.
This is a fun, fast-paced novel that doesn't let go once it's started. As usual, there's a mostly new set of faces around as Torin is dropped into a new situation without (most of) her crew but a few familiar faces are present. And the old spot-the-ones-about-to-die game is present and correct (although I guessed completely wrongly).
I've come to like Torin an awful lot over the course of these books, even if I haven't fallen quite so far into her cult of personality as Darlys. She very obviously cares about the people under her care and does her damnedest to get them out alive, even in circumstances well beyond her control.
I'm looking forward to reading the last in the series now.