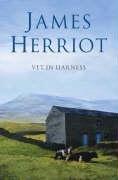 I enjoyed this fourth volume of James Herriot's veterinary memoirs even more than the preceding volumes. This volume spends less time on farms with Jim elbow-deep in a cow's vagina, and more time with some of the smaller animals that a vet sometimes has to deal with, particularly dogs. There's also a slightly melancholy air to it, as although it's hardly mentioned, the War is looming. And indeed, this volume ends with Jim being called up to serve, along with his partner Siegfried and the newly qualified Tristan (Siegfried's brother), leaving the practice in the care of strangers.
Speaking of those two characters, another change to previous volumes is that they barely show up. There's an amusing story of Siegfried judging a Christmas cake and Tristan pranking a drunk who mistakes their surgery for the GP practice next door, but other than that, it's very much just Jim trudging through the Yorkshire hills and the characters he meets in his practice.
To make up for it to some degree, we're introduced to a new regular – the specialist small animal surgeon Granville Bennett, a larger than life character with whom Jim inexplicably tries to match drink for drink every time they meet up, and ends up consistently making a fool of himself, in an endearing way.
Like the other Herriot memoirs, this is a very gentle and readable book, where Herriot's love of the Yorkshire countryside is often to the fore. I look forward to the next one soon.