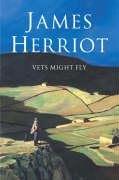 I was wondering what this fifth volume of James Herriot's (fictionalised) memoirs would be like, given that the last had him leaving his wife and practice to join the RAF during WW2. As it turns out, although we do get a little bit of life as a trainee airman, he mostly uses incidents in the military as jumping off points to talk about other events in his veterinary career (although I did enjoy his playing truant in order to go and see his pregnant wife, and how he played the corporal who spotted him). Mostly, these books are gentle and very easy to read, and this is no exception. Apart from the chapter where someone in the town is poisoning dogs with strychnine, and six out of the seven creatures that Herriot treats die. I was not prepared for that!
Apart from that, we have mostly enjoyable anecdotes of veterinary life in the 1930s. It was hard, and a way of life that has pretty much entirely died out with the changes that have come in the latter half of the 20th and now the 21st centuries, and this provides a fascinating snapshot into a period of history, and a way of life that I mostly don't know much about.
I've come to really like the other characters that Herriot deals with regularly – his partner Siegfried and the perpetual student Tristan, but my favourite character has to be Grenville Bennett, the expert in dogs and general bon vivant, in whose company Jim invariably ends up completely plastered, and showing himself up. It's utterly cringeworthy (and normally I hate that) but so much fun, just to see how the utterly oblivious Grenville (who is really most jovial and friendly, and doesn't have a mean bone in his body) spoils Jim's day this time.
Speaking of drinking, the one thing that always jars in these books, and brings home just how much societal attitudes have changed, is the way that many characters, Herriot included, go the pub, have a few drinks and then just hop in their car and drive off. From a modern perspective, this his horrifying, but it was completely normal at the time.
Anyway, I thoroughly enjoy this series. It's not something I would have picked up for myself, but I'm glad that my friend bought them for me. I look forward to reading more of Jim's veterinary and air force adventures soon.