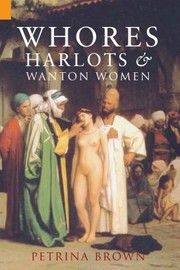 This book aims to be a history of forbidden sex through history, but falls some way short of that. Despite the title (which, I suspect, may have been imposed by the publisher, as the author refers to the book as A History of Forbidden Sex in the introduction), only one chapter of nine specifically discusses prostitution – albeit the largest chapter in the book, taking up about a quarter of the page count).
The chapter on prostitution is oddly structured, trying to spend time on different geographical and temporal sites, but focuses mostly on Britain from c. 1000 CE to 1900 CE. I was disappointed that it didn't continue on into the modern era but seemed content to stop with the Victorians. The focus on Britain was disappointing as well, as some of the other sections offering interesting glimpses into the attitudes of the rest of the world.
The prostitution chapter is probably the best in the book. Large chunks of chapter four ('The Seduction of the Harem') and chapter seven ('Unveiling the Harem') are identical and every time the author moves from plain facts to opinions, the book starts to feel like an undergraduate essay. There are lots of 'perhaps-s' and references to Freud (!) in the final chapter ('Perversions').
The book has some sources sprinkled through the text, but not collated into endnotes, nor is there a bibliography nor index, making this poor material for any serious scholar. The images aren't sourced either, and some of them seem to be details of others from later on, with no explanation why.
In general then, this is a poor book, that has grand ambitions but fails to fulfil them, only scratching at the surface of homosexuality, polygamy, masturbation any other sorts of "non-traditional" sexuality. Even when covering prostitution, it fails to make much of an impact. Oh, and you cannot drop a bombshell suggesting that castrated penises can sometimes regrow and then just go on to talk about an obscure 18th century Russian sect and never mention it again!