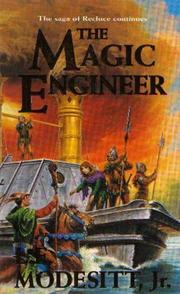 I had bought and read the first seven or eight Recluce novels when I was teenager. I got rid of most of them over the years, but this was always my favourite, and the one that I'd reread the most. I picked it up on a visit to my parents and wondered if it would hold up. I'm pleased that it (mostly) did. Some of the writing feels a bit clunky – especially the ideophonic descriptions of sounds, especially horses – and there was a lot more description of blacksmithing than I remember, but it was still an enjoyable read.
Dorrin is a young magic user living on the island of Recluce, interested mostly in blacksmithing and healing. He is exiled, along with his neighbour Kadara, because of his interest in building machines – particularly steam engines, which his father, a powerful mage, thinks can only lead to chaos.
Dorrin is a good central character. He starts as a bit of a brat, but his experiences over the course of the book temper that, and he's as aware as the reader of the futility of his efforts in Spidlar and that he ends up causing more pain and destruction than he prevents.
I kind of like the idea of a magic system based on order and chaos, and the idea of machines like steam engines that inherently embody chaos, but contained through order, but at times, the two words do seem to be used as arbitrary labels.
Of the other characters, we don't get as much development for the likes of Liedral, Dorrin's love-interest, or the smith family that takes him in when he's exiled from Recluce to the continent of Candar. Kadara fares a little better, although her lover and fellow exile, Brede, doesn't.
The story moves along at a decent pace, and never really feels as long as its nearly 750 pages. The chapters tend to be quite short, sometimes just a half page "cut scene" as we cut to the machinations of the chaos wizards of Fairhaven. Although that trick can sometimes feel really tiring to read, that doesn't seem to be the case here. Possibly because each chapter doesn't end on a cliffhanger, but just ends a short scene and lets time jump forward a bit.
So I enjoyed rereading this after probably a couple of decades, but I have no interest in getting back into the Recluce series (which I see from the GoodReads series page is now over twenty books long!).